Virtual maze for liveness detection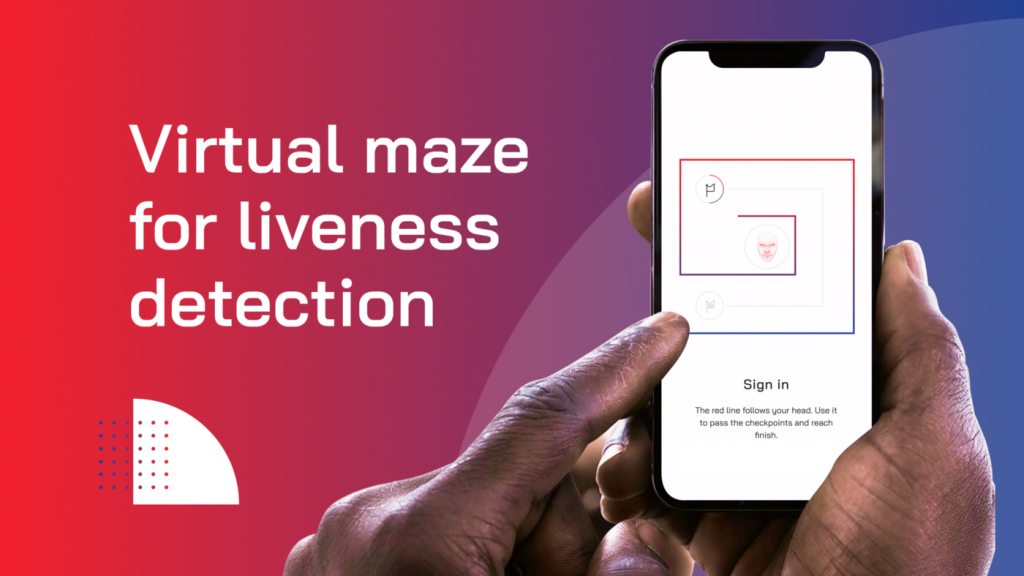 The environment is rapidly changing, and here at Svort, we're making progress too. We continuously improve our technologies to meet the security requirements and offer our customers the most advanced solutions.
Infallible liveness detection is one of our core features that was created to provide users with the full anonymity, and user-friendly interface is our priority along with unprecedented safety. That is why we use virtual maze for liveness detection. This article explains how we perform this process and what makes it anonymous and accurate.
What is a virtual maze?
It is a kind of rotational challenge that allows Svort to recognize whether is it a live person in front of a camera. A user is supposed to turn his head in certain directions escaping the virtual maze. At the same time, Svort scans the user's face and then grants or prohibits access according to the results. I.e. virtual maze is used to both authenticate the user and detect his liveness. It is convenient due to using a single action instead of separate steps for authentication and liveness detection.
How does it work?
During registration, a user has to turn his head in different directions. At this moment certain parameters of his face are scanned at different angles. Then our networks recreate a three-dimensional model of the face and learn to authenticate the user. And when the training is completed, the neural network is able to recognize whether it is a live person in front of the camera. I.e. after the registration and training the neural network detects liveness without the necessity to store sensitive users' data.
Why is it secure?
We needed to make our liveness detection system secure and resistant to spoofing attacks. But we also did not want to overload it with some time-consuming details as passing the system was supposed to be simple or even enjoyable. That is how we decided to implement it in the form of a virtual maze. It is easy to use and hard to be evaded.
To complicate spoofing attacks, we make our maze unpredictable. I.e. a user never knows what action he is supposed to perform next time to escape it as the number of maze escape options reaches 127 132 672 867 200. Using face-tracking systems reduces the probability of successful photo or video spoofing attack almost to nothing as for hacking such a system in its most simple kind intruders have to possess billions of photos and videos of the user's face taken in different conditions.
All of the above resulted in the convenient, precise and user-friendly liveness detection method. Yet we know that there are things to be improved so we are working hard to make the technology impeccable. If you want to know more about Svort Liveness Detection, please drop us a line on [email protected]. And let's stay in touch: LinkedIn, Facebook, Twitter, Medium.